Smilepad Adult pants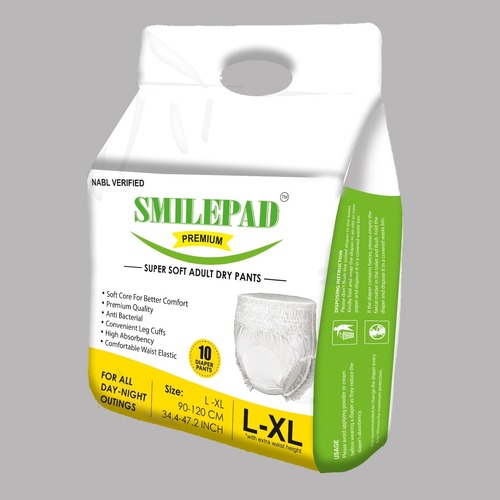 Smilepad Adult pants
Price And Quantity
Product Specifications
Other

Wooden Pulp and SAP
Product Description
Smilepad Adult Pants are high-quality, comfortable, and discreet disposable pants designed for adults who experience incontinence. These pants offer superior protection, allowing individuals to go about their daily activities with confidence and peace of mind. Whether you're at home, work, or traveling, Smilepad Adult Pants provide a reliable solution to manage bladder or bowel control issues effectively.
Frequently Asked Questions (FAQ):
Q: What sizes are available for Smilepad Adult Pants?
A: Smilepad Adult Pants come in a range of sizes to ensure a proper fit for different body types. The available sizes typically include small, medium, large, and extra-large. Please refer to the product packaging or consult the size chart for accurate measurements.
Q: How absorbent are Smilepad Adult Pants?
A: Smilepad Adult Pants are highly absorbent, designed to handle moderate to heavy levels of urinary or fecal incontinence. They feature a multi-layered core that quickly locks away moisture, preventing leaks and keeping the skin dry and comfortable.
Q: Can Smilepad Adult Pants be worn discreetly?
A: Yes, absolutely. Smilepad Adult Pants are designed with discretion in mind. They have a slim profile and a cloth-like outer layer, making them virtually indistinguishable under clothing. This allows individuals to maintain their privacy and dignity while wearing them.
Q: Are Smilepad Adult Pants easy to use?
A: Yes, Smilepad Adult Pants are designed for ease of use. They feature tear-away side seams, which make them effortless to put on and remove, especially for individuals with limited mobility. The elastic waistband ensures a secure and comfortable fit.
Q: How long can Smilepad Adult Pants be worn?
A: The recommended usage time for Smilepad Adult Pants varies depending on an individual's needs and the level of incontinence. However, for optimal hygiene and comfort, it is generally recommended to change the pants every 4-6 hours or as necessary.
Q: Can Smilepad Adult Pants be disposed of easily?
A: Yes, Smilepad Adult Pants are disposable and can be conveniently disposed of after use. They are equipped with adhesive tape tabs that allow for easy and hygienic sealing of the pants before disposal.
Trade Information
Sample costs shipping and taxes has to be paid by the buyer

South India Central India West India Andhra Pradesh Daman and Diu Goa Karnataka Kerala Madhya Pradesh Maharashtra Rajasthan Tamil Nadu Telangana Gujarat Uttar Pradesh All India