Examination gloves - Nitrile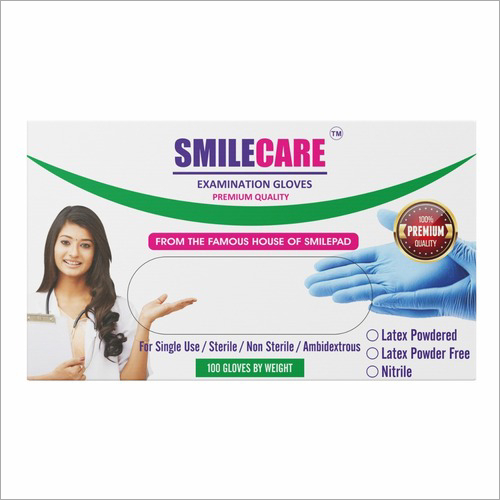 Examination gloves - Nitrile
Price And Quantity
Product Specifications
Product Description
Examination gloves made from nitrile are a popular choice in medical, laboratory, and other healthcare settings. Nitrile gloves are synthetic and provide a reliable barrier against contaminants, ensuring the safety and protection of both the wearer and the patient. They offer excellent chemical resistance, tactile sensitivity, and durability, making them suitable for a wide range of applications.
Frequently Asked Questions (FAQ):
Q: What are the advantages of nitrile examination gloves?
A: Nitrile examination gloves offer several advantages. They provide excellent chemical resistance, protecting against a wide range of chemicals and hazardous substances. Nitrile gloves are also highly puncture-resistant, reducing the risk of tears or leaks during use. They offer good tactile sensitivity, allowing for precise movements and fine dexterity. Additionally, nitrile gloves are latex-free, making them a suitable option for individuals with latex allergies.
Q: Are nitrile examination gloves suitable for sensitive skin?
A: Yes, nitrile examination gloves are generally well-tolerated by individuals with sensitive skin. They are latex-free and do not contain the proteins that can trigger latex allergies. Nitrile gloves are also less likely to cause irritation or allergic reactions compared to latex gloves, making them a safer option for those with sensitive skin.
Q: Can nitrile examination gloves be used in various medical procedures?
A: Yes, nitrile examination gloves are versatile and suitable for a wide range of medical procedures. They are commonly used in examinations, surgeries, laboratory work, and other healthcare-related tasks. Nitrile gloves provide reliable protection and dexterity, allowing healthcare professionals to perform their duties effectively.
Q: Can nitrile examination gloves be worn for extended periods?
A: Nitrile examination gloves are designed to be worn comfortably for extended periods. They offer excellent tactile sensitivity and a comfortable fit, allowing for prolonged use without sacrificing comfort or functionality. However, it is important to follow proper hygiene practices and change gloves when necessary to maintain cleanliness and prevent cross-contamination.
Q: Do nitrile examination gloves come in different sizes?
A: Yes, nitrile examination gloves are available in various sizes to accommodate different hand sizes. The sizes typically include small, medium, large, and extra-large. It is important to select the appropriate glove size for a proper fit, ensuring optimal comfort and functionality.